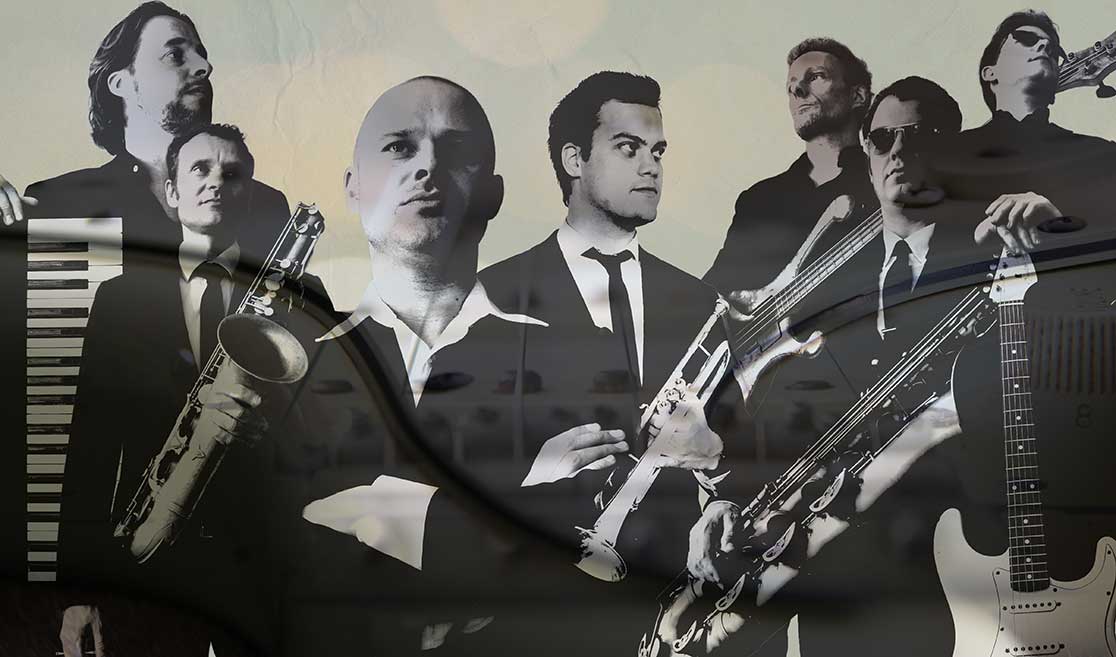 The Jig is a 7-piece funk team from Amsterdam that performs hot original works. It is one of few real funk groups, an instrumental groove machine with a rock & roll-attitude, known for its powerful and exhilarating live shows.
The music is up-to-date and personal, adding elements of soul, afro, jazz and rock & roll to the music that derives from heroes like Bootsy Collins, Tower of Power, James Brown, Average White Band and The Meters.
Since 2009 the band has been propagating its infectiously original funk with growing success, playing around 200 gigs all over Holland, in Germany, Spain, Belgium, France, the U.S. and Brazil.
In 2011 The Jig released its well-received debut album Brooklyn Blowout, which was recorded in New York. In 2013 more funk stompers found their way to an audience by way of the album Aargh! In the fall of 2015 the single The One was released, a biting banger with for the first time – denying all the bands principles – a singer: Mr. Ruben. In may they released the second single Come Get It, again with Mr. Ruben, followed by the full studio album Proximo Disco in june 2016. Since then Mr. Ruben is a regular guest at the shows of The Jig.
As always, The Jig is continuously working on new songs and performing them on the road, making every live show a unique experience. The Jig is a band that's bound to stay, a loyal gang of professional musicians with a common mission: spreading the joy of funk to anyone who wants to hear and feel.
You might have seen some of the band members on stage with Caro Emerald, The Upsessions, The Baseballs, Broken Brass Ensemble, Debbie Sledge, Jim Jones Revue, Flip Noorman and more. The band has collaborated with a.o. Joseph Bowie, Hans Dulfer, Boris van der Lek and Benjamin Herman.
Quotes
'Tingles your ears, snaps at your calves. The Jig doesn't accept any dry spots on the bodies of its audience and on their own.' (Guuz Hoogaerts)
'Cosmopolitan quality…. Explosive interplay …Irresistible dose of funk…The results of these seven men demand cheering, this is a powerful performance.' (Jazzism)
'Do your neighbours a favour and play this album loudly at home, just like me.' (Gerard Ekdom, 3fm)
'Razor-sharp funk from The Jig – a group who come across with a really classic feel throughout – and a vibe that's a lot like The JBs at their early 70s best! Like that legendary group, these guys have a great way of fusing their horn parts with their rhythms.' (Dusty Groove)
'This second album Aargh! is again phonkey,filthy, dirty and sleazy.' (Jazzism)
'Brooklyn Blowout was one of the best albums of 2011. This is more than a motley crew, these are tightly disciplined, top-of-the bill musicians. Performing top compositions.' (Jaap Boots, VPRO)
'The Jig sind unüberhörbar musikalische Söhne der Ära Shaft, begnügten sich jedoch nicht mit der Rolle der Epigonen, sondern bewiesen ganz deutlich eigene Handschrift.' (Mojo Mendiola, Rheinische Post)
Line-up:
Willem Pluk – trumpet
Jeroen van Genuchten – tenor saxophone
Koen Schouten – baritone saxophone
Bas Grijmans – keys
Martijn Smit – guitar
Arry Niemantsverdriet – bass guitar
Niels van Groningen – drums
Mr. Ruben Seyferth - vocals